You are here : Home > Products > Spray Balls
Spray Balls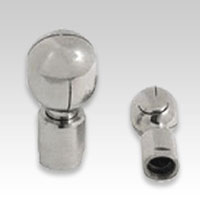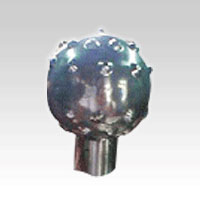 At Ambuja Tube Fitting we specialize in Mfg of various types of spray balls which are used as the most important and lethal tank cleaning systems by use of spray balls. Various models are available as per the degree of cleaning of tanks. We have taken hygiene to another level by easy and cost effective cleaning systems for tanks and equipments. Different models are available and shall be quoted on request.
180° Rotataing Spray Pattern - Stationary Spray Balls.
AMBUJA make spray balls operates at lower pressure as at high pressure due to impact the spray can bounce making the use of spray balls non-productive. So Ideally it is advised to set the flow of water low so that the liquid will flow through the walls of tanks and clean the tank walls properly. To have proper effect of spray balls selection of right size and design is must.
ROTARY TYPE ROTATING SPRAY BALLS Used for cleaning of bottles in bottling plats.
| Sr No. | For Cap size | Dia |
| --- | --- | --- |
| 1. | 50mm | 40mm |
| 2. | 75mm | 60mm |
Spray Balls with male connection.
| Sr No. | Dia of Ball | Connection size |
| --- | --- | --- |
| 1. | 2 ½" | 1" |
| 2. | 2 ½" | 1 ½" |
| 3. | 2 ½" | 2" |
| 4. | 3" | 1" |
| 5. | 3" | 1 ½" |
| 6. | 4" | 1" |
| 7. | 4" | 1 ½" |
| 8. | 4" | 2" |